Well worth the investment
So Many colors to choose from
Invest in your investment
Enjoy the best design and Materials combined together
Are you curious what your new roof will look like? Want to see what different color options would look best on your home?
We have the best tool for you to use. Just click the link above and it will take you to our, user-friendly visualizer tool.
A few things we're great at
Wengerd Homes has provided exceptional quality built homes and residential and commercial remodeling for over eighteen years. The Wengerd's devotion to the Amish way of life has provided them with many satisfied customers who keep coming back to their quality of workmanship and their honesty and integrity. All important aspects of the philosophy behind Ohio Metal Roofing.
Ohio Metal Roofing's on-demand approach is second to none. Our premium quality fabrications and cost efficiency have landed our company at the top.
Using local empowerment, made-in-America sensibilities, and crafting a safe, attractive and endlessly reliable product we will measure, manufacture and install your roof at your project.
We've partnered with Drexel Metals and we are a member of their DM-ARM program which allows us to manufacture "Metal Roofing On-Demand"
You will get the best metal roof on the market when you work with Ohio Metal Roofing!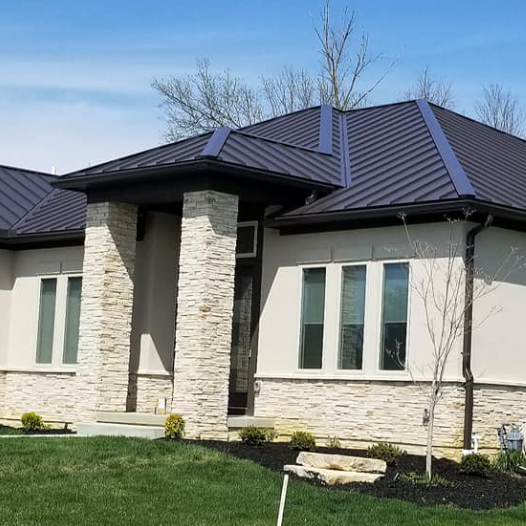 Quality Materials with Quality Craftsmanship.
Serving Columbus and Central Ohio. Delivering Durability, Quality and Value with Honesty and Integrity.
Professional Installation
Ohio Metal Roofs are Installed by local Amish Contractors
Warranties that offer a Peace of Mind. Ohio Metal Roofs offers a 35-year Gold Standard Paint Warranty.
FOR A FREE ESTIMATE, CALL TODAY AND ASK ABOUT OUR 35 YEAR GUARANTEE ON INSTALLATION AND ROOFING
No matter what your taste in colors, we have several options for you.
The Benefits of Metal Roofs
The roof on your home is a major line of defense against the forces of nature, so it's important to give careful consideration when choosing the best roofing system.
Metal roofs are safer than most roofing material in the event of a lightning strike. They are not combustible and are less likely to start a fire.
Metal roofs are exceptionally Long-Lasting. Metal roofs typically last two to three times longer than asphalt roofs.
When installed with solid sheathing, a metal roof can help reduce noise from rain, hail and other inclement weather as well, if not better, than any other roofing material
Strength, Longevity, and carefree Maintenance
While a common choice is asphalt shingles, a metal roof is the premier product for strength, longevity and carefree maintenance.
Our work speaks for itself…
Dont't take our word for it – here's what our clients say:
They were fantastic! The crew was punctual and made sure to clean up after themselves. They answered all of my questions and kept me informed throughout the whole process. I highly recommend them.
They were wonderful from the first estimate. They Explained their product and procedure. They arrived on the day we planned and were very polite and responsive throughout the project. They cleaned up afterward and left me with a beautiful new roof with a 35 year warranty
Very Fast, Neat, Clean and Very Organized Professional Group. The tear off was done same day, and the roof Prep and install went very smooth and looks great.
Contact us!
It will only take a minute
Latest news from our blog
<!—-><!—->
<!—->
<!—->
<!—->
<!—-><!—->
<!—->
<!—->
<!—->
<!—->
Drexel Metals T h e H e i g h t o f B e a u t y, D u r a b i l i t y a n d V a l u e With nearly three decades of industry expertise, Drexel Metals […]
write us or contact us on our social media