Installed by Amish Contractors Certified by Drexel Metals

With three decades of industry expertise, Drexel Metals has earned a reputation for producing roofing systems of exceptional quality, safety, energy efficiency and performance. There depth of experience combines with a passion for delivering industry-advancing innovation, while maximizing cost efficiencies and sustainability.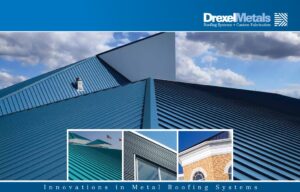 Combining cutting-edge manufacturing with artisan skills, they fuse traditional designs with modern practicalities to create roofing systems that meet each customer's needs – masterfully balancing beauty with functionality and strength.
When you choose a Drexel Metals roof for your home, you can be assured of the highest standards of quality and value.
Environmentally Friendly. Verifiably green, Drexel Metals roofs include recycled content and are 100% recyclable when removed.
Outstanding Warranty Protection. Drexel Metals roof systems are backed by industry-leading warranties – further assurance you have made an excellent selection for your home.
Beauty. When you stand back and take a fresh look at the exterior of your home, you'll notice that the roof is a significant element in its structure and design. The roof should not only provide excellent protection, but also enhance the architectural style.
Curb Appeal. It will last for decades, increase the home's worth, boost its curb appeal, improve the energy efficiency  and help protect the environment.
Unmatched Durability
The roof on your home is a major line of defense against the forces of nature, so it's important to give careful consideration when choosing the best roofing system. While a common choice is asphalt shingles, a metal roof is the premier product for strength, longevity and carefree maintenance. Asphalt roofing – largely made of oil-impregnated paper or fiberglass – begins to deteriorate as soon as it's installed due to weather and the sun's ultraviolet rays. Likewise, wood shingles overtime dry out and crack, and concrete roof tile can fracture from freeze/thaw cycles.
Beautiful and strong, Drexel Metals metal roofs are precision-engineered to withstand decades of extreme weather such as high winds, heavy snow, hailstorms, and even wildfires. It will not deteriorate and is virtually maintenance-free.
Custom Beauty and Appeal
Luxurious colors, dramatic lines and graceful curves – from sleek and modern to charming and traditional. Our broad scope of profiles, styles and colors makes it easy to infuse your personal taste in designing your roof system.
Built with best-in-class technology and color formulations, our high-performance metals and finishes expertly merge exceptional strength with impeccable style. Choose from steel, Galvalume® , aluminum and copper, along with three resilient coating options: Trinar® (fluoropolymer), Siliconized Modified Polyester (SMP) and Drexlume™. All are constructed with products proudly made in the USA and installed by local installers.
Future Forward Value
While you can expect the initial cost of a metal roof to be higher than asphalt shingles, a metal roof will prove to be the better investment in the long run. Not only does a metal roof last two to three times longer than asphalt, it does not incur intermittent repair costs due to loss of shingles.
A metal roof can also increase the value of your home. A beautiful, durable, energy efficient roof that's virtually maintenance-free is an attractive amenity. In most cases, you can expect to recover up to 85% of the cost of your roof when it's time to sell. In some states, a Drexel Metals metal roof also may qualify for a discount on homeowners insurance. In addition, if you choose our Gold Standard Warranty, your warranty becomes transferable to the next owner for the remaining balance of the warranty – another added value.
CALL TODAY 740-751-8131